Tatiana's Fight to Survive
Born at 24 weeks and 5 days and only weighing 604 g, Tatiana's first glimpse at the world wasn't going to be an easy one. Tatiana and Jedidiah MacCartney show good things come in big and small packages.
Jedidiah, who was born at the Royal Women's Hospital last week, weighed four times more than older sister Tatiana, born in 1999. While Jed was 2.83 kg, 16-week premature Tatiana struggled for life with a birth weight of 604g.
This time, Royal Women's doctors monitored mum Eva MacCartney's pregnancy from 15 weeks.
"It was reassuring to have the hospital's constant support after the roller-coaster ride we went on when Tatiana was born," an ecstatic Mrs MacCartney said. Tatiana, 4, spent three months at the Royal Women's neo-natal intensive care unit in 1999. She fought off multiple infections as proud parents Stewart and Eva travelled to and fro.
This time baby Jed has gone straight home in time for Mother's Day on Sunday. "It's the best present you could hope for – having a healthy baby," Mrs MacCartney, 32, said.
"Being stress-free has made a big difference to our family and we will all celebrate our new addition on Sunday."
Mrs MacCartney has joined the Royal Women's Hospital's Mother's Day appeal, urging Victorians to donate generously.
"The job they do is wonderful," Mrs MacCartney said yesterday.
"I can't thank them enough. The nurses really become like your own family."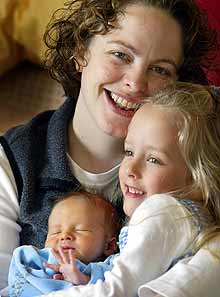 New mum Eva with baby Jedidiah and Tatiana, 4.
The Royal Women's Hospital is hoping to replace four cardiotograph machines with funds raised.

The machines monitor fetal heart rate during pregnancy and labour.

Call 1300 788 749 to make a donation or visit www.mothersday.org.au